Mikeb302000
arma virumque cano (et alia)
Tuesday, August 4, 2015
Posted by

Mike B
at 10:51 AM
1 comment:


Links to this post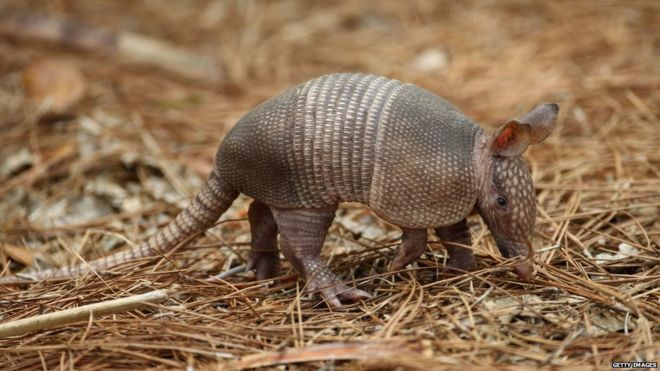 BBC news
Three shots were fired and at least one ricocheted off the shell.
The gunman was treated for a minor injury to the jaw, USA Today reports, but the small armoured creature has not been found and its fate remains unclear.
Cass County Sheriff Larry Rowe told Reuters that the shooter opened fire in the early hours of Thursday morning when he spotted the armadillo on his property.
"He went outside and took his .38 revolver and shot three times at the armadillo," Mr Rowe said.
"Karmadillo!" tweeted the comedian and animal rights supporter Ricky Gervais.
Thursday's incident is not the first armadillo bullet deflection to end in a human wounding in the southern United States in recent months.
In April a Georgia man injured his mother-in-law when a bullet ricocheted off an armadillo, "hit a fence, went through the back door of his mother-in-law's mobile home, through a recliner she was sitting in, and into her back,"
Posted by

Mike B
at 10:39 AM
No comments:


Links to this post
Monday, August 3, 2015
A celebratory scene turned tragic early Sunday morning as gunmen interrupted a college send-off party at an Austin home, wounding four men and killing another, according to witnesses and police.
A young man who asked not to be identified said he and his friends threw the party on the 4800 block of West Kamerling Avenue to celebrate starting college.
He said about 50 people were at the party when two shirtless men ran up to the house and fired through a gangway at a crowd gathered in the backyard. The shooting happened about 1 a.m., police said.
Posted by

Mike B
at 11:20 AM
2 comments:


Links to this post
Posted by

Mike B
at 11:04 AM
2 comments:


Links to this post
Stories of Navy personnel being charged with an offense are not true. There is still a long way to go in reviewing the facts of this tragic incident, but at this time we can confirm no service member has been charged with an offense.
Posted by

Mike B
at 11:02 AM
1 comment:


Links to this post
Sunday, August 2, 2015
Nicholas Naumkin
Local news
Nicholas's Law is named for twelve-year-old Nicholas Naumkin, who in December 2010 was fatally shot while playing with his friend who found his father's unlocked and loaded handgun.
"I applaud the State Assembly's vote today passing Nicholas's Law, which will prevent future tragedies such as the one that devastated our family." said Oksana Naumkin, Nicholas's mother. "With today's vote, we are a step closer to enacting a statewide law that will mean other families will not have to endure our ongoing pain. Now it is the Senate's responsibility to act. We are not going away. We will continue to fight for Nicholas's Law until it is the law of the State of New York."
Safe storage laws exist in Rochester, Buffalo, Westchester County and New York City. Last week, the U.S. Supreme Court declined to hear a case challenging San Francisco's 2007 safe storage law.
Posted by

Mike B
at 12:24 PM
20 comments:


Links to this post